<![endif]-->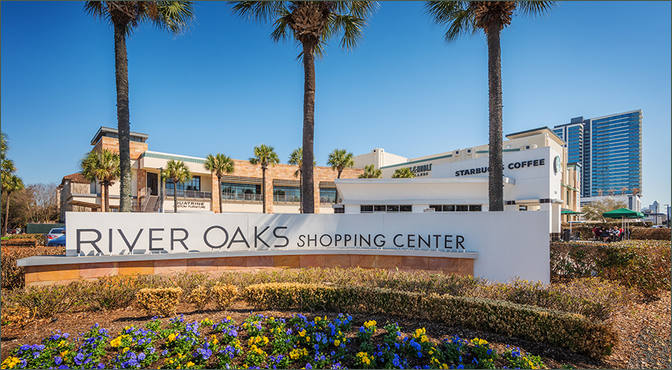 River Oaks Shopping Center
W Gray St at S Shepherd Dr


Houston

, TX

77019




View the Property Drone Tour here.

River Oaks is an open-air specialty shopping center with over 300,000 square feet serving many of Houston's most affluent neighborhoods. The center is positioned between three major office centers (CBD, Uptown and Greenway Plaza). River Oaks enjoys a wide variety of local and national retailers, upscale restaurants and entertainment such as Kroger, Barnes & Noble, J. McLaughlin, Nina McLemore, White House | Black Market, Ann Taylor, Brasserie 19, Perry's Steakhouse & Grille, La Griglia, Steinway Piano Gallery, Sur La Table and the historic River Oaks Theatre. The Driscoll at River Oaks, a luxury residential tower, will include an additional 11,493 SF of ground-floor retail. The new construction broke ground in 2018 and anticipates a delivery date in 2020.
Demographics
| | 1 mi. | 3 mi. | 5 mi. |
| --- | --- | --- | --- |
| Population | 26,383 | 185,129 | 475,648 |
| Daytime Population | 18,686 | 292,310 | 573,269 |
| Households | 14,846 | 98,485 | 222,211 |
| Avg HH Income ($) | 183,340 | 162,178 | 140,267 |
Traffic Counts
| | |
| --- | --- |
| W Gray St & S Shepherd Dr | 52,204 |
Highlights
For Lease
County: Harris County
Type: Retail
Total SF: 301,812
Metro Area: Houston-The Woodlands-Sugar Land, TX

Leasing Agent
Ali Webre
Leasing Agent p. 713.868.6550

Property Manager, Short-Term Leasing
Paige Burbank
Property Manager, Short-Term Leasing p. 713.866.6982

Printable Version
River Oaks Shopping Center
| | | |
| --- | --- | --- |
| Available | Coming Available | Available Pad |
Available Spaces
A0C
3,460 SF
A2A
9,078 SF
B02
790 SF
B05
1,500 SF
D09
1,523 SF
D1A
1,063 SF
D3C
560 SF
D3H
2,503 SF
D9A
589 SF
D12
2,878 SF
E09
6,198 SF
G08
4,644 SF
S00
11,493 SF
| | | |
| --- | --- | --- |
| A0A | Quatrine Furniture | 2,368 SF |
| A0E | V's Barber Shop | 1,257 SF |
| A0H | C2 Education Center | 1,440 SF |
| A0N | Barnes & Noble | 33,179 SF |
| A3A | Phenix Salon Suites | 6,734 SF |
| A10 | Starbucks | 1,957 SF |
| B0A | La Madeleine | 2,213 SF |
| B01 | Hemline | 1,475 SF |
| B03 | Clorinda Antinori Italian Shoes | 1,362 SF |
| B04 | Macaron by Patisse | 912 SF |
| B06 | Modern Acupuncture | 1,340 SF |
| B07 | LensCrafters | 3,545 SF |
| B09 | Izakaya WA | 3,000 SF |
| B2A | Sunglass Hut | 800 SF |
| B4A | Marble Slab Creamery | 1,048 SF |
| B10 | Origin Bank | 1,927 SF |
| D02 | International Derma Spa | 1,120 SF |
| D04 | Houston Lash Boutique | 560 SF |
| D05 | River Oaks Theater | 9,310 SF |
| D07 | Ryde | 2,272 SF |
| D08 | Epicure Bakery | 2,904 SF |
| D3A | Cacao & Cardamom | 580 SF |
| D3B | Beautifully Bronzed | 560 SF |
| D3F | Vikari Paris | 1,120 SF |
| D10 | Steinway Piano Gallery | 3,017 SF |
| D11 | Eklektic Jewelry Studio | 1,238 SF |
| D13 | Texas Gallery | 3,077 SF |
| D14 | Marfreless | 2,694 SF |
| E0A | The Mad Potter | 1,520 SF |
| E01 | Perry's Steakhouse & Grille | 12,288 SF |
| E03 | Allen Edmonds | 1,220 SF |
| E04 | Ann Taylor | 5,520 SF |
| E08 | Ballard Designs | 10,885 SF |
| E11 | Nina McLemore | 1,840 SF |
| E12 | J. McLaughlin | 2,179 SF |
| E13 | White House Black Market | 3,549 SF |
| E14 | Beverly Hills Rejuvenation Center | 1,920 SF |
| E15 | Barry's Bootcamp | 6,218 SF |
| G01 | Sur La Table | 8,125 SF |
| G05 | Jos. A. Bank Clothiers | 7,691 SF |
| G06 | The Antiquarium | 2,000 SF |
| G09 | J Jill | 4,186 SF |
| M01 | Brasserie 19 | 4,675 SF |
| M1A | Storage | 360 SF |
| R0A | Talbots | 7,183 SF |
| R0E | Full Blown Blow Dry Bar | 2,057 SF |
| R0F | Francesca's | 1,350 SF |
| R0G | Alton Lane | 1,200 SF |
| R0H | Run On by Jack Rabbit | 2,000 SF |
| R0J | Chico's | 3,650 SF |
| R0R | La Griglia Restaurant | 7,480 SF |
River Oaks Shopping Center
River Oaks Shopping Center