<![endif]-->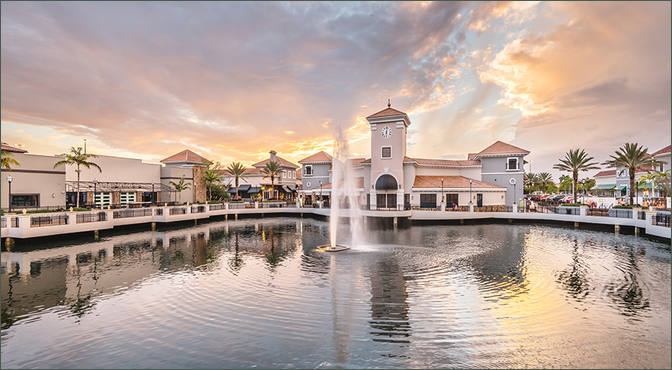 The Palms at Town & Country
Florida Turnpike at Kendall Dr/SW 88th St


Miami

, FL

33183




View the Drone Property Tour here.

The Palms at Town & Country is an 80-acre, open-air lifestyle and power center site located along the Florida Turnpike at Kendall Drive/SW 88th Street. The eclectic lineup of retailers includes recession-resistant tenants such as Publix, CVS alongside retailers like Dick's Sporting Goods, Nordstrom Rack, Total Wine and restaurants that cater to an affluent customer with discretionary income. Interior traffic counts on Mills Dr. boast more than 70,000 vehicles per day.
Demographics
| | 1 mi. | 3 mi. | 5 mi. |
| --- | --- | --- | --- |
| Population | 15,243 | 169,685 | 478,864 |
| Daytime Population | 6,441 | 50,727 | 153,463 |
| Households | 5,992 | 58,924 | 158,180 |
| Avg HH Income ($) | 84,774 | 82,885 | 84,780 |
Traffic Counts
| | |
| --- | --- |
| Kendall Dr & SW 117th Ave | 106,540 |
Highlights
For Lease
Type: Retail
Total SF: 657,652
Metro Area: Miami-Fort Lauderdale-Pompano Beach, FL

Leasing Agent
Nicole Townsend
Leasing Agent p. 954.938.2584

Property Manager, Short-Term Leasing
Gina Hurst
Property Manager, Short-Term Leasing p. 954.938.2598

Printable Version
The Palms at Town & Country
| | | |
| --- | --- | --- |
| Available | Coming Available | Available Pad |
Available Spaces
| | | |
| --- | --- | --- |
| C0E | 11,654 SF | |
| C0H | 1,710 SF | |
| C0J | 2,149 SF | |
| E0J | 1,281 SF | |
| E0P | 1,275 SF | |
| H0P | 3,000 SF | |
| K0M | 3,696 SF | |
| K0P | 2,007 SF | |
| L0R | 4,046 SF | |
| P0A | 7,752 SF | |
Pad Opportunities
| | |
| --- | --- |
| 1 | Available Pad, 1.145 acres |
| | | |
| --- | --- | --- |
| A0A | Bolay | 2,720 SF |
| A0D | Tilly's | 7,255 SF |
| A0F | La Fogata | 2,975 SF |
| A0J | Carter's | 5,403 SF |
| A0M | Men's Wearhouse | 5,743 SF |
| B0A | Marshalls / HomeGoods | 50,877 SF |
| C0A | Chico's Off The Rack | 3,039 SF |
| C0N | Bath & Body Works | 4,657 SF |
| C0R | New York & Co. | 10,000 SF |
| C0U | Madrag | 7,000 SF |
| C0W | America's Best Contacts | 3,455 SF |
| D0A | 24 Hour Fitness | 40,000 SF |
| D0B | Two Brothers Pizzeria | 600 SF |
| D0C | Ken's Healthy Delights | 863 SF |
| D0D | Florida Discount Nutrition | 1,000 SF |
| D0H | Golden House Jewelry | 754 SF |
| D0J | Cartoon Cuts | 1,160 SF |
| D0K | Gossip Girl | 569 SF |
| E0A | Jenny Craig | 1,595 SF |
| E0C | Poki Bowl | 1,532 SF |
| E0D | Beauty Cafe | 672 SF |
| E0F | DaVita | 5,851 SF |
| E0K | Woof Gang Bakery | 1,275 SF |
| E0L | Tiffany Day Spa | 1,275 SF |
| E0N | Uni. K. Wax | 1,275 SF |
| E0S | Avis | 1,275 SF |
| F0A | CVS Pharmacy | 10,164 SF |
| F0F | Ideal Image | 3,570 SF |
| F0H | GNC | 1,275 SF |
| F0K | Hand & Stone Massage | 2,540 SF |
| F0M | The UPS Store | 1,245 SF |
| F0P | Asian Nails | 1,445 SF |
| F0S | United States Postal Service | 4,144 SF |
| F0V | Coldwell Banker | 3,113 SF |
| F0X | Hair Cuttery | 1,560 SF |
| G0A | Publix Supermarket | 39,795 SF |
| H0A | Deka Lash | 1,498 SF |
| H0C | U.S. Army Corps of Engineers | 4,962 SF |
| H0F | Petland | 4,750 SF |
| H0H | Community Blood Centers | 2,125 SF |
| H0K | Power Financial Credit Union | 2,550 SF |
| H0M | Town and Country Family Dental | 1,700 SF |
| H0S | H&R Block | 1,250 SF |
| H0T | Learning Express Toys | 2,423 SF |
| H0V | Salons by JC | 7,905 SF |
| H0Y | Casavana Cuban Cuisine | 5,017 SF |
| J0A | Nordstrom Rack | 34,794 SF |
| K0A | Forever 21 Red | 20,372 SF |
| K0G | Lane Bryant | 5,414 SF |
| K0J | MOD Pizza | 3,425 SF |
| K0S | Nacion Sushi | 5,485 SF |
| L0A | Blue Martini | 7,065 SF |
| L0E | Legacy Fit | 4,569 SF |
| L0H | Sweet Tomatoes | 5,434 SF |
| L0K | Hibachi Grill Masters | 1,039 SF |
| L0N | Haagen-Dazs | 960 SF |
| L0T | Outback Steakhouse | 6,459 SF |
| L0V | Tu Candela Gastro Bar | 2,656 SF |
| L0Y | Suspiros | 5,384 SF |
| M0A | Bar Louie | 7,743 SF |
| N0A | Cadillac Ranch | 7,850 SF |
| R0A | Burger King | 3,684 SF |
| R0B | Chase Bank | 4,935 SF |
| R0C | Kendall Regional Medical Center | 10,839 SF |
| R0D | Wells Fargo Bank | 4,500 SF |
| R0E | Auto Zone | 7,400 SF |
| R0F | BurgerFI | 2,000 SF |
| S0A | Total Wine & More | 23,070 SF |
| T0A | Dick's Sporting Goods | 47,973 SF |
| V0A | Kohl's | 88,709 SF |
| W0A | Baptist Health South Florida | 44,925 SF |
The Palms at Town & Country
The Palms at Town & Country