<![endif]-->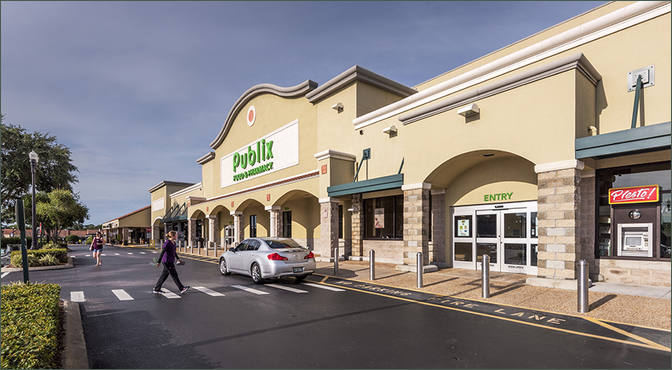 Marketplace at Dr. Phillips
Dr. Phillips Blvd at Sand Lake Rd


Orlando

, FL

32819




View the Drone Property Tour here.

This center is strategically located at the crossroads of Dr. Phillips Blvd and Sand Lake Rd, placing it at a dominant retail intersection serving some of the most exclusive communities in Orlando. The Marketplace at Dr. Phillips is home to numerous restaurants including Morton's Steakhouse, Christini's Ristorante Italiano and Bartaco. Retail anchors include Publix, Office Depot, Stein Mart and HomeGoods. This Center is a staple in this community as one of the initial retail hubs in this area and has developed into one of the most desirable retail locations in Southwest Orlando.
Demographics
| | 1 mi. | 3 mi. | 5 mi. |
| --- | --- | --- | --- |
| Population | 9,884 | 46,484 | 161,246 |
| Daytime Population | 17,834 | 91,872 | 180,248 |
| Households | 3,931 | 17,533 | 62,307 |
| Avg HH Income ($) | 121,830 | 125,713 | 90,502 |
Traffic Counts
| | |
| --- | --- |
| Dr. Phillips Blvd & Sand Lake Rd | 64,840 |
Highlights
For Lease
Type: Retail
Total SF: 326,868
Metro Area: Orlando-Kissimmee-Sanford, FL

Leasing Agent
Alexander Evans
Leasing Agent p. 407.563.1131

Property Manager, Short-Term Leasing
John Haggerty
Property Manager, Short-Term Leasing p. 407.563.1141

Printable Version
Marketplace at Dr. Phillips
| | | |
| --- | --- | --- |
| Available | Coming Available | Available Pad |
Available Spaces
A0D
2,908 SF
B0V
2,837 SF
C0E
3,862 SF
C0M
692 SF
CB1
665 SF
G0D
1,440 SF
R0B
| | | |
| --- | --- | --- |
| A0A | Stein Mart | 37,080 SF |
| A0E | Keke's Breakfast Cafe | 5,500 SF |
| A0G | HearX | 1,200 SF |
| A0H | The H Restaurant | 2,911 SF |
| A0J | Florida Eye Clinic | 1,306 SF |
| A0K | Clean Juice Bar | 1,119 SF |
| A0L | The UPS Store | 1,300 SF |
| A0M | H&R Block | 1,300 SF |
| A0N | Polo Cleaners | 1,600 SF |
| A0R | Publix Supermarket | 64,850 SF |
| B0A | Goodwill | 3,455 SF |
| B0B | Posh Nails | 2,000 SF |
| B0C | El Inka Grill Ceviche | 2,293 SF |
| B0D | Premier Hair Enhancements | 1,800 SF |
| B0E | Woof Gang Bakery | 1,419 SF |
| B0F | Freshii | 1,066 SF |
| B0G | Lisbon Restaurant | 3,013 SF |
| B0H | Domu | 3,213 SF |
| B0J | Great Clips | 1,936 SF |
| B0K | Hand & Stone Massage | 1,936 SF |
| B0L | Bocas Grill | 1,936 SF |
| B0M | Bartaco | 4,432 SF |
| B0P | Stirling Sotheby's International Realty | 1,936 SF |
| B0Q | Dr. Phillips Nail Spa | 1,669 SF |
| B0R | La Carraia Gelateria | 702 SF |
| B0S | Engel & Volkers | 871 SF |
| B0T | Victory Martial Arts | 2,000 SF |
| B0U | Acqua Day Spa | 1,103 SF |
| B0W | Whole Health Alternatives | 1,897 SF |
| C0A | Jones Clayton Construction | 1,158 SF |
| C0B | Martin Tailor | 801 SF |
| C0C | Nagoya Sushi | 1,650 SF |
| C0F | Phenix Salon Suites | 4,317 SF |
| C0H | Tempo Dance Academy | 1,875 SF |
| C0J | Christini's | 4,284 SF |
| C0K | Club Pilates | 1,936 SF |
| C0L | Chamberlin's | 3,872 SF |
| C0N | uBreakiFix | 1,082 SF |
| C0P | Starbucks | 1,425 SF |
| C0Q | Lemon Shark Restaurant | 1,936 SF |
| C0R | Bosphorous Turkish Cuisine | 1,954 SF |
| C0S | Einstein Bros. Bagels | 3,886 SF |
| C0T | TooJay's Original Gourmet Deli | 4,541 SF |
| C0U | Morton's Steakhouse | 11,718 SF |
| C0V | Dr. Phillips Animal Hospital | 1,891 SF |
| C0W | Diamond Rug Gallery | 1,936 SF |
| C0X | Chocolate Salon & Spa | 1,640 SF |
| C0Y | California Closets | 1,983 SF |
| C0Z | The Flooring Center | 1,984 SF |
| D0A | Office Depot | 23,186 SF |
| D0H | HomeGoods | 25,512 SF |
| D0M | Bridal Gallery Couture | 2,542 SF |
| E0A | Vissers Physical Therapy | 1,340 SF |
| E0B | Theatre South Playhouse | 1,379 SF |
| E0C | Quality Cleaners | 1,376 SF |
| E0D | Pool Pleaser II | 1,349 SF |
| E0E | Clear Sinus | 1,341 SF |
| E0F | Theatre South Playhouse | 2,221 SF |
| E0G | Bay Hill Cat Hospital | 1,863 SF |
| E0K | Wheelock Law Firm | 5,309 SF |
| F0A | Bank of America | 5,673 SF |
| F0E | Orlando Eye Associates | 3,698 SF |
| F0H | G World Properties | 3,577 SF |
| G0A | Pigtails & Crewcuts | 1,322 SF |
| G0B | Pizza Hut | 1,310 SF |
| G0C | Flame Kabob | 1,440 SF |
| G0F | Mathnasium | 1,300 SF |
| G0G | State Farm Insurance | 1,300 SF |
| G0H | Lotus Garden | 1,950 SF |
| H0A | Korean Gogi Grill | 3,600 SF |
| H0D | Brother Jimmy's BBQ | 1,500 SF |
| H0H | Chipotle Mexican Grill | 2,400 SF |
| R0A | Chase Bank | 6,496 SF |
Marketplace at Dr. Phillips
Marketplace at Dr. Phillips